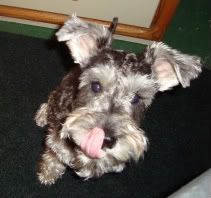 For the past two weeks my mama keeps tackling me, pinning me to the ground, then shoving a little white thing down my throat. I've tried a zillion times to ask her WHY she keeps doing it, but then she distracts me with cuddles and I forget about it.
Until she does it again.
Sometimes she makes grampa and mamama help, and last night she tricked me and threw it down my throat while I was trying to play.
The nerve!