Mama has been really annoying lately. She keeps dragging boxes into MY room, then throwing things all over MY couch. She says she's doing something with some organs or something... I don't know, I stopped listening when FOUR pairs of socks hit the floor.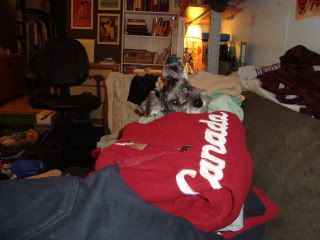 She finally made a space for me on the couch. It took several tries for her to get the hint -- I kept jumping on the couch then lifting my legs daintily like I wasn't quite sure where to rest them, and she FINALLY moved a pile. Sheesh, woman.
I should cut her a little slack though. She did let me sleep while she watched a movie.