I think someone has too much time on her hands. She's gone and changed things here AGAIN.
*looks around*
I hafta say, I do kinda like the cleaner look. No extra fluff mussing things up.
She also went and got me my very own Facebook page! Not an account like a person -- just a fan page, or something like that. You can find it
here
.
She did insist that I share a couple outtakes with you.
I don't look my best, so please don't make too much fun of me.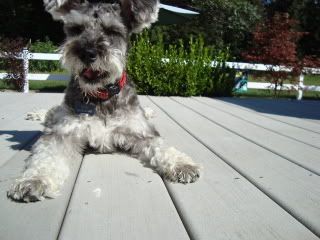 She kept yap yap yapping at me, so I was trying to talk back!
Yes, there were treats involved.
So whaddya think?