Have I told you about my papa? He's the one who found me, you know. I was curled up in a little box with my birth mom and my two siblings when he yanked all three of us out of our warm cocoon and plopped us onto a glass countertop.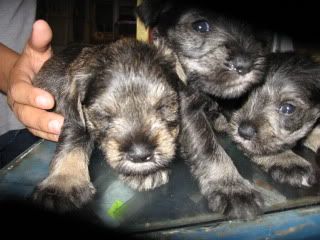 Since then he's taken me everywhere (well, almost everywhere -- sometimes he leaves me at home and I scream and scream for him to come back but he doesn't), usually riding on his shoulder.
He races me around the house, then gives me lots of treats, especially when mama isn't looking. He lets me chew on his socks, bite his pants, and wrestle with his towel. In the afternoons we play this game where he leaps from one side of the bed to the other and I race back and forth and try to bite him. I can jump on the bed, but that wouldn't be any fun, so I just go round and round, and sometimes scoot underneath to surprise him. The game usually ends when I bite him too hard. (sorry papa)
Last weekend he bought mama some flowers and they smell really nice. She won't let me eat them though -- not even the parts that fell on the floor.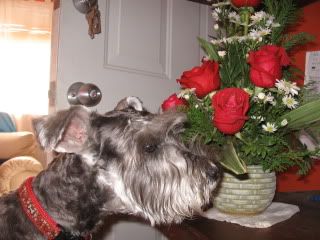 But mostly we just play. And play and play and play. He blows in my face until I squeal at him, but that just makes him laugh so he keeps doing it. I try to catch his mouth but he always moves away too fast. One of these days...