So where was I?
Right. After the grassy place we got in the car and they brought me to what mama called "a store."
I'd never been inside a store like this before. Back home the only places I'd been inside didn't have doors -- they just had an open wall and you could see inside from the street. But this place had slippery floors and I could smell that LOTS of other dogs visited before.
Mama and Penguin followed me around until I found bone heaven. I'm telling you, there were more bones than I could ever dream of and some of them were as big as me!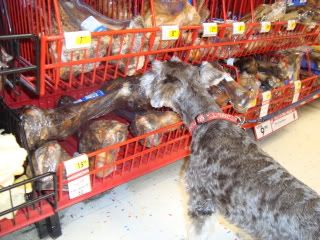 We went to another row where they had all the squeaky toys a dog can dream of, when suddenly a GIANT dog came around the corner. I was scared of him at first, but he laid down on the floor so I knew it was okay to talk to him.
Penguin picked up every toy I liked. Mama kept telling him not to buy me so many things -- something about being "spoiled", whatever that means -- but lucky for me he didn't listen.
Look what I got! That tall thing in the back -- it's a Penguin!
Mama keeps laughing at the squirrel but I really don't understand what's so funny about it. I'm just happy that it squeaks in TWO places!